I can honestly say, and with much enthusiasm, that my favorite thing right this minute is that I am finally bouncing back from the flu!!! Yay!!!
This bug got me down a couple of weeks ago and even though, body-wise, I am feeling pretty good, there is still a persistent cough which is kind enough to wake me up several times during the night -- thus, I still feel tired and worn out (I'm sure being well over the hill has something to do with that too, but we won't mention it at this point.....) It seems that the older one gets, the harder it is to shake off an illness and get back to normal.
After dragging myself a few times to the computer to check on sales, I finally wised up and put my shops on vacation. On flu-cation, as it were.... But they are back in business now since I think I can tackle the boxing and shipping again.
So, imagine a picture of me throwing off the ice pack on my head and the thermometer from my mouth!
And, blogging again!
My other favorite thing this week is this sweet heart shaped trinket box -- it's hand painted with lovely little flowers reminiscent of the china painting done by a dear aunt. I have several of her china painted pieces -- I'll show you those another time since I'm not up to a lot of picture taking right now -- and this trinket box is exactly like one she would have painted.
I found it at an estate sale and simply had to get it. It may make its way into my shop, but for now it is residing on my dresser.
I love the little blue flowers and the swirling vines with their tiny pink dots.
It is signed M. Austin and I think that Ms. Austin did a beautiful job on her trinket box. I would love to know the story behind this little heart -- did M. Austin give it as a gift to a special friend or family member? Did she paint it just for her pleasure? Did she use it for her bits and bobs? Whatever its story, I'm happy to use it for my bits and bobs for now, and to think of my aunt whenever I look at it.
♥♥♥
Linking my trinket box to
A Favorite Thing over at Mockingbird Hill Cottage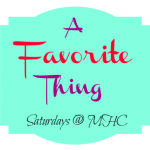 .
♥♥