We had a sleepover this past weekend! Noli had an "event" at school -- a sock hop! Since it was over at 8:30 and going home would put them there pretty late, they slept over at my house (I'm conveniently about middle ways between Noli's two houses) and then they stayed over on Saturday too! It was a pretty fun time!!
Noli is still pretty sleepy on Saturday morning!
(Sorry about the yellow cast -- didn't do the proper settings!)
Wild woman!
I wish I had curls like that!
Stephanie got an attack of "clean-out-itis" and cleaned up the very cluttered closet in my office.... yay! I'd been fixin' to do it for a long time, but procrastination reared its ugly head and I put it off, and off, and off. So this was a HUGE help to me!
Anyway, in that closet were hanging the three dresses I had made for Stephanie's first day of school in Kindergarten and first and second grades. Naturally, Noli had to try them on! Kindergarten was way too short but the other two were a good fit.
The first grade dress is a red jumper with a white blouse and hearts and bows all over! And heart buttons. And ruffles! Oh my, I can't believe I did all those ruffles!
Noli loved it and wanted to wear it to school on Valentine's Day!
I just couldn't get the color right, but the red is like that first pic above.
But doesn't she look cute in her mama's dress!
Still showing off that lost tooth!
When Stephanie was in first grade, they celebrated Johnny Appleseed Day -- wore red, bobbed for apples, played apple games.
The newspaper took photos and the kids were in the paper!
You can see Stephanie in her red dress!
I did a blog post about it a year or so ago --
Ha! If Noli were bobbing for apples, she'd have a hard time with only one front tooth!!
And, it's loose!!
♥♥
Linking Noli's dress over at Claudia's for
A Favorite Thing
. Because the dress is definitely a favorite thing.... and so is Noli!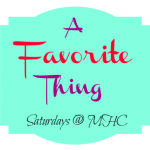 ♥♥